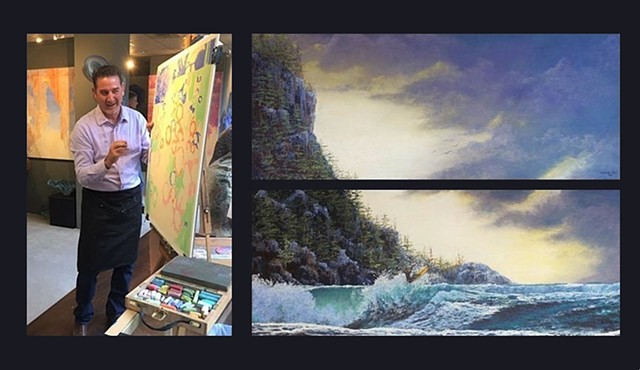 2021 / WELCOME TO MY WORLD
I grew up surrounded by creativity in my parents. My father was almost always painting with whatever free time he had. I admired what he did. For him, art was a hobby and an interest that he shared with myself and many of my 5 siblings. I am also lucky enough to have a mother who is equally as creative. Her creativity blossomed, literally and figuratively, in the garden. That influenced me as well.
I took both of these passions and followed my love of precision and the aesthetic with me to college and studied Landscape Architecture. It was in this discipline and career that I thought I could combine my love of art and the outdoors. After graduating from college in 1991, I went on to design community parks, recreation facilities, and landscape plans for commercial businesses and private residences nationwide.
While I enjoyed doing that, I felt something was missing and found myself drawn to painting and warm weather in Southern California. There I started a successful faux finish painting business. With a network of clients, I began painting murals and getting closer to my true passion of art-I just didn't quite know it yet. My work included Italian plaster finishes, murals for corporate offices and exterior buildings, as well as restoration of historic landmarks along the west coast. Although this was fun, it was still within the confines of someone else's dreams and desires-not my own.
It wasn't until I got married and had the amazing opportunity to become a "stay at home" dad that I found the true inspiration to create my current works.
I was drawn to pastels because of their true colors. Techniques of layering and color combinations challenge me to understand the color wheel and all of its components. I feel in control of every step when creating a new piece by strategizing each layer with form, color and composition.
At last, I have found my true calling... as a father, husband and an artist.
Life is Good.